Retirement planning made personal
We know how hard it can be to save, even for people with a workplace retirement plan. That's why we encourage financial wellness and retirement readiness by engaging each individual along the financial journey to and through retirement.
A  holistic financial approach 

Since 2014, we've conducted our financial stress survey to help us better understand the financial lives of our participants. We know they want to save for retirement, but each individual has unique obstacles that get in the way. 
That's why we put saving to and through retirement in the context of participants' overall financial picture by providing tools and education to help them manage all the milestones and bumps they encounter on their journey to retirement.
Financial wellness resources for the journey to and through retirement
Using data to make it relevant and engaging 
We use predictive analytics to deepen our knowledge of participants' financial personas. This not only guides our product development—and even plan design—efforts, it's how we personalize our participant experience. Participants engage with information that's personally relevant, from their projected retirement spending needs to the appropriate educational content. 
View the personalized journey of three participant personas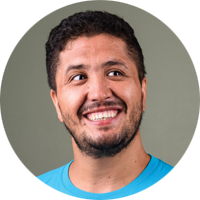 Jackson is 40 years old and single, has a few dependents, and is a low-wage earner. He's not contributing to his 401(k). John Hancock's Financial Wellness Assessment will help him pinpoint his financial weaknesses and point him to relevant educational content on My Learning Center to help him learn how to manage his finances and enable retirement savings.
Melissa is 43 and married, earns a moderate income, and contributes 6% to her retirement plan. By logging in to John Hancock's participant website, she'll see how well her savings strategy is preparing her for projected retirement expenses, which she can fine-tune by answering a few questions about her retirement plans, other savings accounts, and health. Melissa can also get a holistic view of all her finances and track her spending with My Money Connector. 
Joseph is 52 and married, has a couple dependents, and earns a moderate income. He contributes 16% of his salary to his retirement plan. Joseph wants help managing his 401(k) investments, so he uses Retirement Manager to get guidance on his allocation strategy. His kids want to go to college in a couple of years, so he sits down with them regularly to go through our college planning guidance, outline their finances for college, and conduct college and scholarship searches.
Related viewpoints
My Money Connector is a data aggregation tool available to you through John Hancock's website. My Money Connector is only reflective of the accounts that you have linked. Additional information can be found in the "Important information" document, available online.