How to take control of stress, so it doesn't control you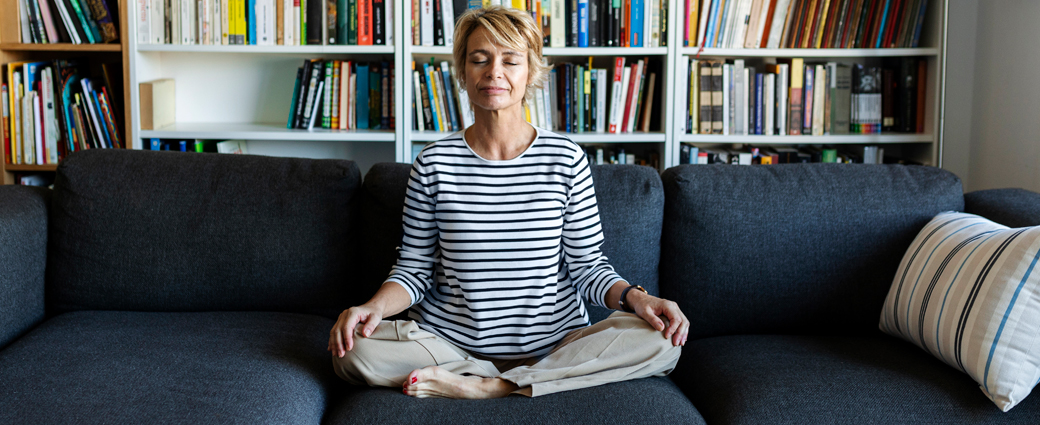 Stress is—and always will be—a part of life. And as you get closer to retirement, you have new things to think about, such as how you'll spend your time and how to create an income stream. But it doesn't have to stress you out if you learn how to manage it. Exercising your body and your mind can help you take control.
Why do I have to worry about stress in retirement?
People often idealize retirement as a carefree time, full of golf, beaches, and travel—but that's not the whole picture. Your old stressors won't just float away, and you may be feeling some new ones. Many people worry about how to fill all that free time, how to stay healthy, and how to manage their finances. Having a plan for each of those worries can help you reduce your stress: joining a community organization, walking daily, and creating a budget. 
Stress is your body's response to change or to an external threat. It's typically tension you can feel—physically, mentally, or emotionally. It can also take over, clouding your thoughts and ruining your mood. If you don't do anything about it, prolonged stress can cause heaches, high blood pressure, stomach and digestive problems, anxiety, depression, and—unfortunately—much more.1

But for the stress you can't plan away, you can help improve your body and mind's ability to handle it. Learning and practicing two critical behaviors can help: exercise and mindfulness. 
Exercise to beat stress 

Making exercise part of your daily routine not only helps improve your physical condition, it can also improve your response to stress. 
Physical activity releases endorphins that can counteract the negative effects of stress. You don't have to do a marathon or even a run—a brisk walk will suffice. And a walk in the woods—even just the presence of trees—has been proven to lower blood pressure, reduce anxiety, and boost the immune system.2 Making exercise part of your life can help make you more resilient when stress hits. 
Pick an activity—or a few—you'd enjoy. Do it alone or with a friend based on the day or the activity. If it's going to be strenuous, it's always a good idea to check with your doctor first.

Try walking, running, biking, swimming, golfing, tennis, working out at the gym, Pilates, yoga, tai chi, dancing, or _____ (you fill in the blank!).
Schedule exercise into your week the way you'd schedule other important activities.
Do it!
Practice mindfulness to take control 

Mindfulness is the practice of paying attention to your thoughts, feelings, and environment without judgment. Incorporating mindfulness into your life can help you control your physical, mental, and emotional responses to stress.  
Mindfulness is more than just meditating, and there are lots of resources online to help you find the approach to mindfulness that works for you. One thing they all have in common is deep breathing. 
Breathing deeply allows more oxygen to flow to the brain. As a result, it can reduce blood pressure, lower your stress levels,3 and help you slow down and focus. Set aside some time to practice deep breathing at least once a day. 
1   Sit comfortably or lay down with your knees bent.
2   Take a slow, deep breath.
3   Follow the breath as it enters through your nose and fills up your lungs and stomach.
4   Exhale slowly through your mouth.
5   Follow the breath as it leaves through your stomach, lungs, and mouth.
6   Repeat at least several times for best results.
Just like with exercise, work it into your daily routine. Begin your day with a calm, fresh start or end your day by clearing out the stress—or both. Start with a minute and gradually work your way up to 20 or 30 minutes4—just like with exercise, give yourself time to get better at it.
1 "Stress," Cleveland Clinic, 1/28/21. 2 "Immerse Yourself in a Forest for Better Health," New York State Department of Environmental Conservation, 2020. 3 "What Is Diaphragmatic Breathing?" Healthline Media, September 2018. Last medically reviewed 11/5/21. 4 "Take a Deep Breath," The American Institute of Stress, August 2012.
The content of this document is for general information only. Please speak with a health professional for personal advice regarding any health tips or concerns. 

The content of this website is for general information only and is believed to be accurate and reliable as of the posting date, but may be subject to change. It is not intended to provide investment, tax, plan design, or legal advice (unless otherwise indicated). Please consult your own independent advisor as to any investment, tax, or legal statements made.

There is no guarantee that any investment strategy will achieve its objectives.

John Hancock Retirement Plan Services LLC offers administrative and/or recordkeeping services to sponsors and administrators of retirement plans. John Hancock Trust Company LLC provides trust and custodial services to such plans. Group annuity contracts and recordkeeping agreements are issued by John Hancock Life Insurance Company (U.S.A.), Boston, MA (not licensed in NY), and John Hancock Life Insurance Company of New York, Valhalla, NY. Product features and availability may differ by state. Securities are offered through John Hancock Distributors LLC, member FINRA, SIPC. 

John Hancock Investment Management Distributors LLC is the principal underwriter and wholesale distribution broker-dealer for the John Hancock mutual funds, member FINRA, SIPC.


John Hancock Personal Financial Services, LLC (JHPFS) is an affiliate of John Hancock Retirement Plan Services LLC. JHPFS is an SEC registered investment adviser that provides automated advisory services for clients by managing investments through the John Hancock Managed IRA program. Assets in a John Hancock Managed IRA will be held at Pershing Advisor Solutions LLC, a registered broker-dealer, member FINRA, SIPC. John Hancock Personal Financial Services, LLC, 200 Berkeley Street, Boston, MA 02116.

Each entity makes available a platform of investment alternatives to sponsors or administrators of retirement plans without regard to the individualized needs of any plan. Unless otherwise specifically stated in writing, each such company does not, and is not undertaking to, provide impartial investment advice or give advice in a fiduciary capacity. 

NOT FDIC INSURED. MAY LOSE VALUE. NOT BANK GUARANTEED.

MGR0615232894469