Reflections on TPA Day and the value of partnership
Every year on the day after the October 15 Form 5500 filings deadline, John Hancock declares an annual day of recognition for TPAs. Of course, the timing is symbolic. The Form 5500 reflects the current status of an established 401(k) plan—a team creation that often involves the efforts of a TPA. The prime reason for National TPA Day is to show appreciation for the role TPAs play in the retirement marketplace and to recognize the role they've played in the success of John Hancock's retirement plan business. National TPA Day is also a reminder to financial professionals (especially those still getting established) that partnering with TPAs may be an important pathway to success.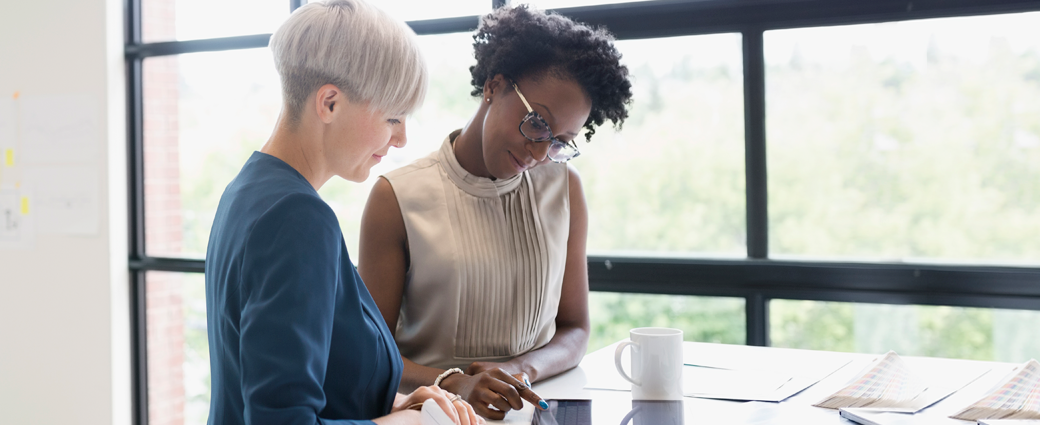 The retirement plan marketplace is complex, so who you partner with matters
Recognizing the complexity of the retirement plan marketplace, the teams that financial representatives assemble to help build and maintain their practice are critical, and a third-party administrator (TPA) may be an important factor in building a profitable book of retirement plans. Although the scope of TPA services varies by firm, the core of their services might best be termed client fit and advocacy. TPAs work closely with plan sponsors to ensure that the retirement program's design is on strategy, that the plans are in compliance, and that administration is buttoned up.
In many cases, the expertise and services offered by TPAs bridge all types of plans, including, but not limited to, 401(k) and 403(b), profit sharing, traditional pension, cash balance, and nonqualified. Ensuring that these plans complement each other may be an important benefit for plan sponsors.
As you're developing your own business model as a financial representative, the insight of experienced TPAs may provide you with a competitive advantage that becomes an important part of your unique value proposition. 
A TPA knows the territory
If you're a financial representative intent on growing a retirement plan practice, then you're also an entrepreneur. One principle of successful entrepreneurial marketing is establishing a beachhead—a strong local presence to help sustain your practice in the early days and provide a base for expansion in the years ahead. Successful TPAs are masters at this.
TPAs' ability to provide business model focus and expertise has led to strong working relationships between these plan consultants and financial professionals doing business in their local markets; for instance, TPAs may be able to leverage their plan design expertise to help generate new business. Well-established TPAs may also help provide an entrée into a local retirement plan economy that might include lawyers and accountants on the referral side, as well as agricultural businesses, medical practices, manufacturers, trade unions, and other potential clients. Collectively, this may be a big leg up for a retirement plan financial professional focused on growth.
The top TPAs doing business with John Hancock all have a strong local presence; many are well-established regional and national firms. Without exception, these companies have lessons to share on how to establish and grow a territory.
A TPA knows integration
Recently, a midsize financial institution chose John Hancock as its 401(k) recordkeeper based largely on one factor: our ability to work within that company's long-standing TPA relationship. One obvious point is that many plan sponsors place a high value on a TPA's guidance and support. This fact is borne out in our win-loss data across the small and midsize plan markets; however, we think there's a more important point here for financial representatives building their practices.
As independent retirement plan consultants, TPAs are committed to helping clients orchestrate the various services they receive, regardless of who provides them.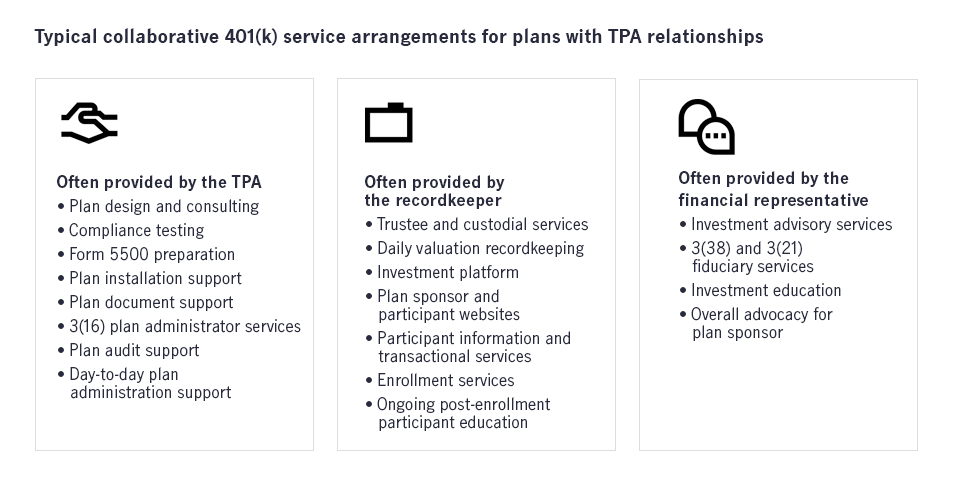 A TPA is refreshingly open and honest
Given the importance of TPAs to our business model, John Hancock leverages these firms' opinions to help shape our policies, practices, and offerings. From formal advisory councils to quick street-level conversations, we know we can always count on such companies' straight and insightful input. Regardless of which piece of the retirement market you're targeting—and the actual interaction you end up having with these firms—these companies' knowledge and experience can help fuel your success.
What better way to get the ball rolling than by wishing them a happy National TPA Day? 
 

 

The content of this document is for general information only. John Hancock does not provide investment, tax, or legal advice. Please consult your own independent financial professional as to any investment, tax, or legal statements made here.

 

10/19-40488   MGR100919501103