Personalize your retirement planning
Almost half of Americans want to retire near beaches, lakes, and other bodies of water. Millennials are split between the West and East Coasts, and men and women dream of different ideal locations.¹ Do you know where you'd like to be? Picturing your retirement can be fun, and it can help you understand how much you need to save for the retirement you want.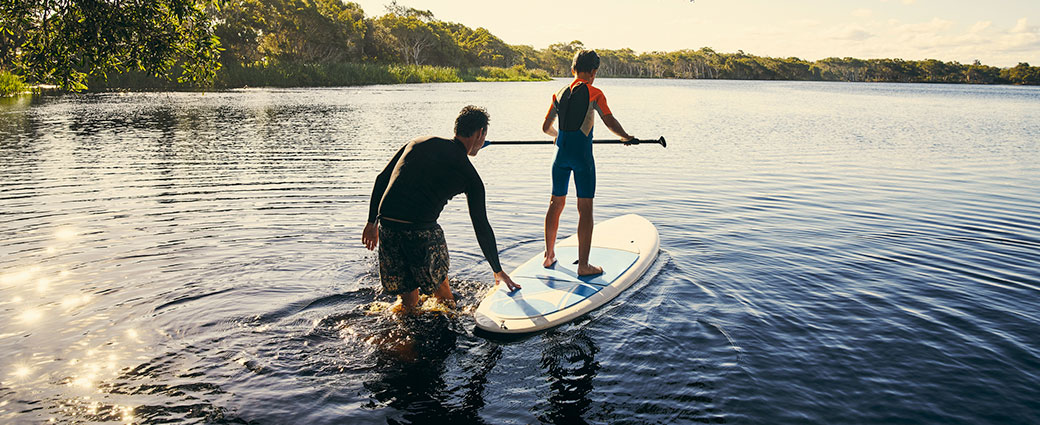 Planning for retirement is a personal thing
Just Google "best places to retire," and you'll find lots of lists—but the best list is your own. Start by asking yourself what type of retirement you want. What do you want to do? How and where do you want to live? The lifestyle you choose will affect how much you'll need to spend in retirement. Once you know how much you'll need to spend, you'll know how much you need to save. In fact, 89% of people say that seeing a projection of their retirement expenses would help them save more.2
Lifestyle
Think of retirement as your reward for years of hard work. Now picture what that reward looks like. Maybe you'll want to be part of a community geared to retirees where you can socialize and make new connections. Or settle in somewhere quiet and relaxing—in the mountains, by a pond, or near the ocean. 
Activities. You may be thinking that you'll have plenty of time for golf, tennis, or even pickle ball. But then again, perhaps being close to bike paths is more your speed. Would you like to spend time volunteering or taking classes? As you think about future activities, consider how much they'll cost.  
Work. Even when you've retired, you may still want to work or maybe open a small business. Among current workers, 8 in 10 think they'll work after they retire, although just 28% of retirees actually do.3 As you plan your income and expenses in retirement, be realistic about how much money you'll be able to earn—and for how long.
Real estate. Do you plan to downsize, spend more time at a vacation home, or move to a bigger house? Rural, suburban, or city setting? The type and cost of housing can vary widely by geography—and whether you own or rent is a big decision. Just take a look at some Springfields across the United States and you can see big differences.
| | | |
| --- | --- | --- |
| SPRINGFIELD …  | MEDIAN HOME VALUE | MEDIAN MONTHLY RENT |
| Illinois | $121,541 |   $957 |
| Massachusetts | $173,725 | $1,540 |
| Oregon | $295,596 | $1,463 |
| Tennessee | $193,146 | $1,309 |
| Virginia | $536,250 | $2,500 |
Source: zillow.com, 5/6/20.
Climate. Most retirees stay put. Others move across state lines—as did nearly one million people over the age of 60 in 2018, many of them heading south to take advantage of warmer weather.4 If you'd like a sunnier climate, will you split your time so you're somewhere cooler in the heat of the summer? Or will you stay put year-round, perhaps traveling periodically?
Family. How about your immediate family? If you'll be taking care of grandkids or elderly parents, you'll want to be close by; otherwise, a quick car trip or even a direct flight away may suit your needs. And if you won't be living near family, you may want a home or vacation spot that has space for visitors.
Cost of living
Starting to visualize doing what you want to do in retirement is exciting, so be sure you're planning and saving enough to make it happen. Having a formal plan can help you set your financial goals and keep you on track. 
Basic expenses. Once you have an idea of where you want to be, check out the cost of living and how it compares with where you are now. If you're likely to eat out or go to the movies and theater, estimate those costs as well. 
Extra fees. Next, think about costs for anticipated travel or vacation properties. Consider memberships for fitness centers, golf clubs, or tennis courts you'd like to join. And don't forget to count home maintenance costs to replace that roof or build that new addition you've been wishing for. While you'll have new expenses in retirement, you'll leave some behind, such as the costs of commuting and buying lunch each day.
Health. One cost you can't afford to forget is healthcare. A healthy 65-year-old couple who retired in 2019 can expect to spend $12,286 on healthcare each year of retirement. If you and your spouse won't be turning 65 until 2039, you can expect to spend more than $34,000 annually.5 As you think about where you'll retire, the cost—and quality—of healthcare will vary. 
Taxes. If you're thinking of moving, taxes can make a difference. Do the areas you're considering charge taxes on everyday goods—and if so, how much? Some states (Alaska, Florida, Nevada, South Dakota, Texas, Washington, and Wyoming) don't have income tax, while others (New Hampshire and Tennessee) don't tax earned wages, but the trade-off could be higher property taxes. If you're a U.S. citizen living outside the United States, you'll still need to file a tax return each year.
Picture your lifestyle in retirement and start planning today
Retirement is a chance to do what you want—so what do you want to do? Once you have a good idea of what your retirement will look like, think about the details that will make it just right and put together a plan that helps you achieve it.
1 "This Is Where Americans Actually Want to Retire," Yahoo! Finance, October 2019. 2 John Hancock's financial stress survey,  John Hancock, Greenwald & Associates, June 2019. A survey of more than 3,500 workers to learn more about individual stress levels, their causes and effects, and strategies for relief.  3 "Retirement Confidence Survey Summary Report," Employee Benefit Research Institute, April 2019. 4 "Where Retirees Are Moving—2020 Edition" Yahoo! Finance, March 2020. 5 "Health Care Costs in Retirement," annuity.org, 2019.

MGR0501201171655