Rebalancing your retirement account to help manage risk
When you join your employer's retirement plan, you choose which funds to invest your money in. But how do you ensure your money continues to be invested the way you want? Rebalancing your account from time to time can help you stick to your investment strategy.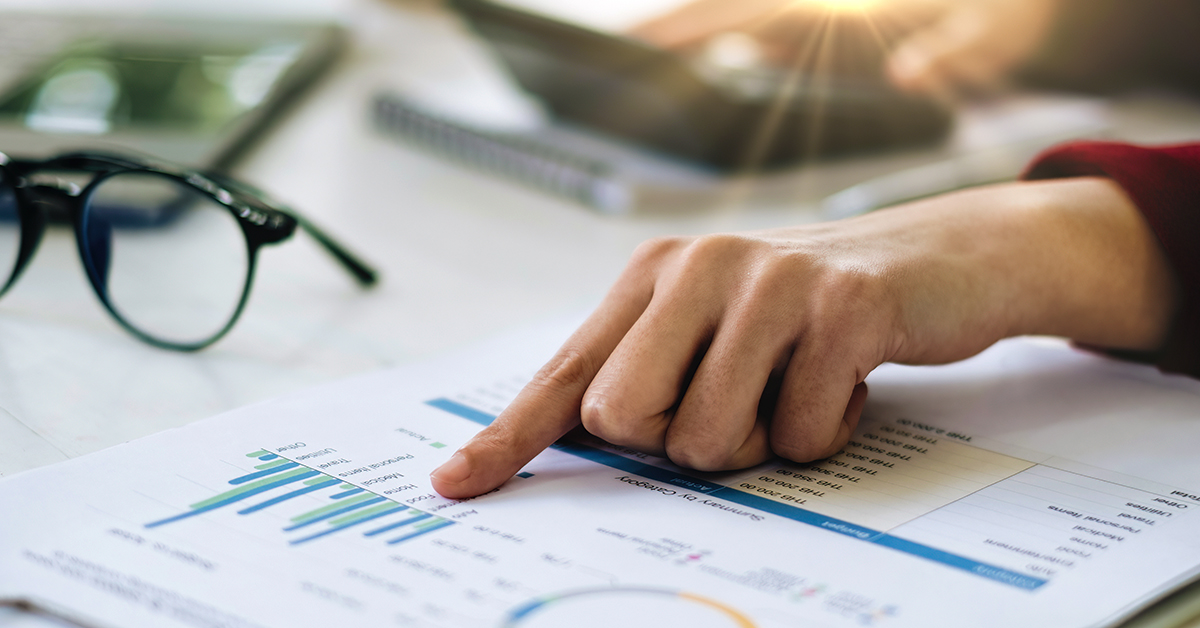 What does rebalancing your retirement account mean?
When you enroll in your retirement plan, you decide how you want your money to be invested. How much money you put in each investment type is referred to as your asset allocation. You choose how much to put into each investment based on how much risk you're comfortable with, how long until you plan to retire, and other factors. But the value of each investment will change over time, and they'll each change in different ways. So, after a while, the percentage you wanted invested in each will be different than where it started.
Let's say you select four funds, each making up 25% of your account. Over time, the value of your investments will change—some may go up in value, and others may go down. That causes your mix to shift.
| | | | | | |
| --- | --- | --- | --- | --- | --- |
| Investment | Amount invested | Percentage of your account | Change in value | New value | Percentage at year end |
| Fund A | $2,500 | 25% | –10% | $2,250 | 22% |
| Fund B | $2,500 | 25% | 16% | $2,900 | 29% |
| Fund C | $2,500 | 25% | –22% | $1,950 | 19% |
| Fund D | $2,500 | 25% | 20% | $3,000 | 30% |
| Totals | $10,000 | 100% | 1% | $10,100 | 100% |
This is a hypothetical illustration used for informational purposes only. It does not represent any particular investment. There is no guarantee that the results shown will be achieved, and may not be reflective of your situation.
Rebalancing is the process or action of getting your investments back to your desired mix: In this example, it means getting back to 25% in each. That may involve selling some of your units in Funds B and D and using that money to buy more of Funds A and C until all four reach 25% each.
Some retirement plans automatically rebalance your account
One of the advantages of employer-sponsored retirement plans, such as 401(k)s, 403(b)s, or 457s, is that they may rebalance for you. Check your summary plan description or other plan document to see if your plan offers rebalancing. Automatic rebalancing can save you time and effort.
Why should you consider rebalancing your 401(k)?
There are three primary reasons to consider rebalancing your account from time to time.
Keeping with your strategy—You chose your investment mix for a reason, but because the value of your investments will change at different rates, the mix will change over time. To stick to your investment strategy, you likely need to rebalance your account periodically. 
Avoiding too much—or too little—risk—If a risky fund performs well and increases in value, it will make up a higher percentage of your account. If this happens, the overall risk of your account increases as well and you might be taking on more risk than you want. The opposite can occur, too, which means your investments wouldn't have enough risk for your liking. Rebalance regularly to help keep your account's risk in line with your comfort level.
Making the most of changing prices—Rebalancing can involve selling units of funds that have performed well (and make up too much of your account) to purchase units of funds that make up too small a percentage of your account. When you do that, you're selling winners and cashing in on some of your gains when their values are higher. You're then using that money to buy units of underperforming funds at lower prices. You're selling high and buying low, a strategy many investors hope to achieve.
How often should you rebalance?
Deciding when to rebalance is a personal decision that depends on how closely you want your investments to match your desired asset allocation. The longer you wait, the further your mix can deviate from what you want. But rebalancing for a 0.1% shift may not be worth the effort. Some people prefer to rebalance annually, while others may do it monthly or quarterly. 
Rather than rebalancing based on a set timeframe (e.g., monthly or quarterly), you could rebalance when one fund's percentage grows by a certain amount. Using our earlier example, you could consider rebalancing when any of the four funds make up 30% of your account. Sometimes you may rebalance after a month; other times, you may wait a year. It depends on your comfort level of letting your investments become overweight in one direction or another.
What are some examples of rebalancing strategies?
To rebalance our retirement portfolio above, we can:
Increase our investment in Funds A and C,
Decrease our investment in Funds B and D, or 
Do a combination of the two. 
Two strategies are commonly used to rebalance your retirement savings.
Strategy one: shifting new contributions toward underperforming funds
If you're adding to your retirement plan with each pay cycle, you could decide to use future contributions to rebalance your mix. To do this, you'd need to buy more of the funds that make up too small a percentage with your new contributions. For example, if you want to have more of Funds A and C and less of B and D, then you can consider buying only A and C until the four funds balance out to 25% each—option one above.
Strategy two: selling overperforming funds and buying underperforming funds
Or you could change the mix right away by selling what you have too much of and buying what you need more of. For example, if Funds B and D make up more than your desired 25% mix, consider selling some of them and use the money to buy more of Funds A and C. This is the third option above.
Keeping the asset allocation you want
Rebalancing can help you keep your investments in line with your desired mix and risk levels. It can also enable you to capture investment gains by selling investments that make up a larger percentage of your account than you want and use the money to buy more of your underperforming investments making up too small a percentage. And the best part: Your plan may offer this feature as an option for you (i.e., during predetermined frequencies, such as quarterly or annually, your retirement investments will be rebalanced to align with your chosen allocation).
For complete information about a particular investment option, please read the fund prospectus. You should carefully consider the objectives, risks, charges, and expenses before investing. The prospectus contains this and other important information about the investment option and investment company. Please read the prospectus carefully before you invest or send money. Prospectus may only be available in English.

Neither asset allocation nor diversification guarantees a profit or protects against a loss.

There is no guarantee that any investment strategy will achieve its objectives.

It is your responsibility to select and monitor your investment options to meet your retirement objectives. You should review your investment strategy at least annually. You may also want to consult your own independent investment or tax advisor or legal counsel.

The content of this document is for general information only and is believed to be accurate and reliable as of the posting date, but may be subject to change. It is not intended to provide investment, tax, plan design, or legal advice (unless otherwise indicated). Please consult your own independent advisor as to any investment, tax, or legal statements made.

MGR1005222436225