Take charge of financial decisions by making them a family affair
There are now more millennials than baby boomers.¹ But what about Gen X, the generation sandwiched in between? They're facing more financial stress than their younger and older coworkers.² Having their own money to manage, kids to plan for, and parents to worry about can mean a lot of financial decisions to handle. If this sounds like you, it's time to actively take charge of your family finances, so you can accomplish your own goals, too.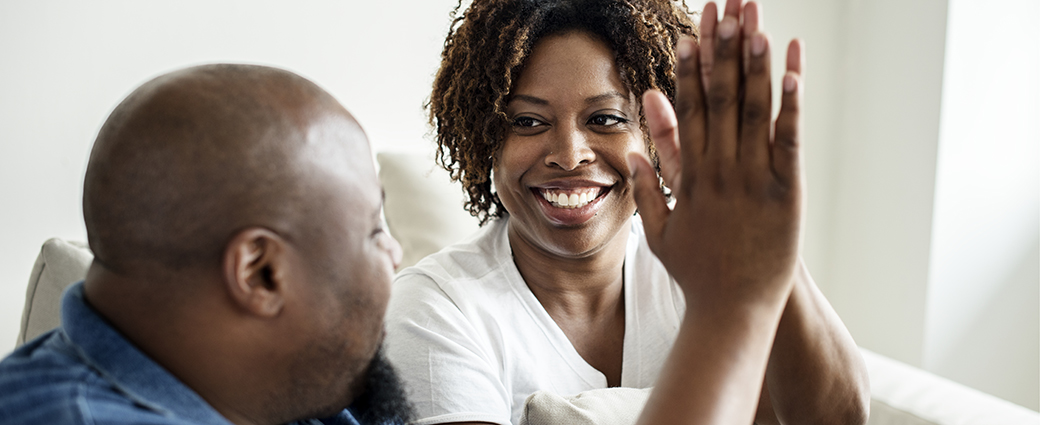 Your financial wellness begins with you
Even if you're feeling stuck, you probably have an idea of things you can do to improve your financial situation. The challenge is the gap between what we know we should do and what we're actually doing. Take paying down debt, for example. In a recent survey, 40% of people said they knew paying down debt would help improve their situation—yet, 14% actually used tools to help them do so.²
To take charge of your finances, you need to get those closest to you on board. Money matters are difficult to discuss and can be a sensitive topic—even with close family members. It's helpful to have these conversations in advance, so that when an emergency happens, you have a plan. 
Your spouse/partner: planning can make all the difference
Have you and your spouse outlined your financial strategy? If you haven't really talked about it or if you're avoiding the conversation because it's uncomfortable, schedule a specific time and place each month to talk about finances, including:
Setting up a budget or revisiting the one you already have: It can give you a closer look at the choices you're making—and provide guardrails and guidelines for your financial decisions.
Saving for retirement: Just picturing your lifestyle in retirement can be fun—and once you have an idea of what it will look like, you have something to look forward to and plan for. Also be sure to name your retirement plan beneficiaries—it's an easy, but important, step to be sure your money goes where you want it to go.
Paying off debt: While borrowing may not be possible to avoid, it's possible to manage. Look for ways to reduce debt—especially high interest-rate debt, such as credit cards. There are lots of tools online to help you. Or if you have a mortgage, look for lower rates that may allow you to refinance.
Creating an emergency savings fund: Having a three- to six-month safety net to handle unexpected expenses can help you avoid using credit cards or borrowing money.
Estate planning: It isn't just for the wealthy. You need at least a basic plan to help protect the things you've worked so hard for and to declare where your assets and savings should go if something happens to you. If you don't have a plan, the legal system may make those decisions for you.
Life insurance: If you have family members who depend on you, life insurance may offer some financial protection.³ Review the options available to you (including through your workplace) to see if there's coverage that fits your situation.
College savings: Be sure to do your homework on saving for college

. Planning ahead to estimate costs and researching ways to make it more affordable can help move your family's higher education plans in the right direction.
Your kids and financial literacy
If you have younger kids, teach them good money habits. You can start small, with allowances, chores, or snack money for school—something that helps them start to understand money matters. If your children are older, show them how to budget and manage their money—especially since today's technology makes it so easy to spend. And if your children are in their late teens or early 20s, whether they're living at home or not, they can still affect your finances. Make sure they understand how and take some responsibility.
Your parents may need protection
Some parents may be hesitant to share financial details because they want to remain independent. But it's smart to start the conversation while they're still healthy, especially since nearly half of Americans over age 55 don't have a will.⁴ Wills and trusts can help protect assets from falling into the wrong hands while saving on probate costs and taxes. Working with your parents to make a list of personal, financial, and medical details can help in the event of an emergency.
You'll also need to help protect them from financial fraud. Seniors lose an estimated $2.9 billion to $36.5 billion to money scams each year.⁵ Financial abuse can be difficult to spot, but look for things such as unexplained bank account activity, unpaid bills, or new credit card balances.⁶
Retirement planning and other goals
Feeling confident in your decisions can make all the difference, especially if you're trying to handle your own finances while taking care of everyone else. If you take charge by having the conversations and setting goals with your family's input and support, it's easier to get your finances under control. Once you start taking action on the financial decisions you've been putting off, you may find yourself ready to tackle more.
1 "Millennials overtake Baby Boomers as America's largest generation," Pew Research Center, April 2020. 2 John Hancock's sixth annual financial stress survey, John Hancock and Greenwald & Associates, June 2019. A survey of more than 3,500 workers to learn more about individual stress levels, their causes and effects, and strategies for relief. 3 This website is provided for informational purposes only and is not endorsed or sponsored by John Hancock. Its inclusion here shall not, in any manner, be construed as an endorsement of such website or its products, services, or statements. 4 "Despite Their Priorities, Nearly Half of Americans Over 55 Still Don't Have A Will," Forbes Media LLC, February 2019. 5 "Suspicious Activity Reports on Elder Financial Exploitation: Issues and Trends," Consumer Financial Protection Bureau, February 2019. 6 "Warning Signs of Elder Financial Abuse," Washington State Department of Financial Institutions, 2020. 

The content of this document is for general information only and is believed to be accurate and reliable as of the posting date, but may be subject to change. It is not intended to provide investment, tax, plan design, or legal advice (unless otherwise indicated). Please consult your own independent advisor as to any investment, tax, or legal statements made herein.

MGR0630201227245