Retirement TPAs—7 tips for optimizing a hybrid work schedule
The traditional work environment for third-party administrators (TPAs) may be a thing of the past, with more firms switching to a hybrid work schedule—part time in the office and part time remote. This shift is more than just a change in location; it's a shift in how your employees collaborate, communicate, and perform their daily tasks to deliver a positive client experience. Here are some tips that can help ensure a seamless transition.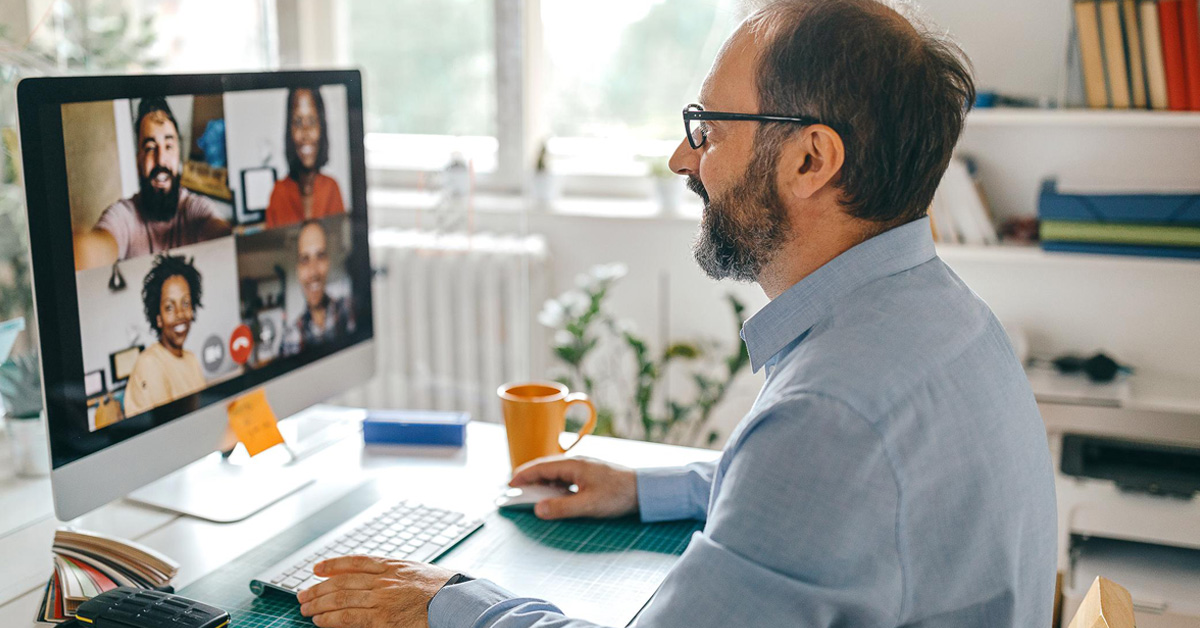 #1: Gather feedback from your employees 
Employee feedback is a good place to start when deciding how to reimagine your workplace. How do they feel about working in the office part time versus full time? What concerns do they have about working remotely, and what equipment will they need? Getting their input is a way to ensure you create an environment that helps your employees thrive and demonstrates your concern for their well-being.
Our recent survey of TPA firms revealed that 50% of employees prefer a hybrid work schedule, and 93% feel their productivity at home is either the same or better compared with working in the office.1

Where TPAs are working
Source: SHIFT working well survey results for participating TPA firms, March 2021. 
Compared to working in the office, my productivity working from home is:

Source: SHIFT working well survey results for participating TPA firms, March 2021.
#2: Evaluate the need to maintain a permanent location
If your employees are only going to be in the office two or three days per week, it might make economic sense to rent space from an on-demand workspace company, such as WeWork or LiquidSpace,2 rather than maintain a permanent location. This approach can help you lower your overhead, providing more resources that can be reinvested into your firm. Of course, before renting any space, you'll want to make sure it's conducive for both collaborative and individual work and provides secure internet connections to protect plan and participant information.  
Regardless of the type of physical space, when your entire staff is together, it will be business as usual. You'll be able to collaborate easily and enjoy "water cooler" conversations. The challenge is replicating this experience outside the office. The following tips focus on managing remote employees to help you maintain your firm's growth and culture. You may have already heard some, but they bear repeating.    
#3: Overcommunicate with remote workers

On remote days, it's easy for your employees to feel isolated or disconnected from your firm's objectives. Consider amplifying your communications on these days to help them overcome these feelings.
Hold 15-minute stand-up team meetings: This morning meeting is an opportunity for each staff member to share which projects or tasks they plan to focus on that day and any assistance they may need to complete them.
Schedule weekly one-on-one meetings: Some employees may not be comfortable raising concerns in a group setting. Meeting one on one allows them to speak openly with you about their tasks, the hybrid work schedule, and other topics. It also enables you to provide regular feedback on their performance and address small issues before they become big ones.
#4: Invest in virtual tools that foster collaboration

In addition to overcommunicating, you want to equip your staff with the resources to collaborate remotely. Let's say you had a great brainstorming session about attracting new business when your staff was together on-site. Now everyone will be working remotely the next two days, and you're concerned about maintaining the momentum. Consider using:
Group chats: Whether you're using Microsoft Teams, Slack,2 or another instant messaging service, setting up project-specific group chats can enable the individuals involved to share ideas, ask questions, and provide updates to other project members.  
Digital whiteboards: With this interactive tool, employees can add their ideas during virtual meetings, and you can organize and save the information for future reference. There's a variety of whiteboards available in the marketplace with different capabilities, so, as with any tool, you'll want to do your due diligence.
#5: Conduct cybersecurity training

A hybrid work schedule creates added exposure to cybersecurity threats, and your remote workers are the first line of defense. 
Eighty-five percent of breaches involve a human element3
Make sure your employees understand what makes a strong password, and that they're using secure platforms for video and audio meetings. Reinforce cybersecurity best practices, and remind them that the protocols they follow in the office also apply when working remotely. Additionally, you may want to conduct periodic phishing tests to help your employees recognize email and phone scams and learn how to respond accordingly.     

#6: Set clear expectations for remote days, and lead by example

The ability to work remotely has blurred the line between work and home, making it more challenging for many people to truly shut down for the day. They feel compelled to check emails at all hours or finish just "one more thing." But no one can keep up this pace for long before becoming less productive or burning out.
Compared with working in the office, my work hours when working from home are:

Source: SHIFT working well survey results for participating TPA firms, March 2021.
To avoid this scenario, let your staff know which hours they're expected to be available on remote days and share your schedule with them. You should also encourage employees to establish a routine and workspace that mimic their days in the office, which might involve:
Setting their alarm to start work at the same time every day
Getting dressed for work to help get into the mindset
Taking a break for lunch, away from their computers
Scheduling exercise and outdoor time, before work, during their breaks, or after work
Making sure they have a quiet spot for phone calls and plenty of room for their computer and supplies
#7: Host virtual team-building events

As mentioned earlier, remote workers can feel isolated, and if left unaddressed, these feelings can negatively affect your firm's culture. Encourage your staff to make time for the virtual water cooler, using text, instant messaging, or the phone to connect with their co-workers on a personal level.
Hosting team activities on Zoom, Microsoft Teams,2 or another channel can also strengthen connections. Here's a few ways to have fun and foster camaraderie virtually:
Game days—Take a break and play trivia, bingo, Pictionary, or another game for an hour.
Weekly themes—Have employees post pictures or stories on the group chat related to the theme─most embarrassing moment, favorite vacation, or childhood memory.
Cooking lessons—Provide the ingredient list ahead of the class, and have employees post pictures of the finished dish.
The possibilities are endless. Consider forming a social committee who can solicit ideas for activities and run the events. As an added benefit, you might post pictures of these activities on your firm's social media pages to show the human side of your business to your clients and your culture to potential job candidates.

Hybrid work schedules—the future of work

The ideal workplace continues to evolve as younger generations enter the labor market. These individuals not only want a job that's professionally fulfilling but also offers the flexibility to work remotely. The pandemic has accelerated the shift to a hybrid work schedule. Embracing this shift and putting the infrastructure in place to manage remote employees effectively can help your TPA firm attract and retain top talent from across the country, positioning your business for continued success.
1 SHIFT working well survey results for participating John Hancock TPA firms, March 2021. 2 These companies are provided for informational purposes only and are not endorsed or sponsored by John Hancock. Their inclusion here shall not, in any manner, be construed as an endorsement of such companies or their products, services, or statements. 3 "2021 Verizon Data Breach Investigations Report," Verizon, 2021.

In September 2020, John Hancock commissioned a survey with SHIFT. An online survey of 512 employees at eleven John Hancock TPA firms was conducted between September 2020 and February 2021 to learn more about the work environment. John Hancock and SHIFT are not affiliated, and neither is responsible for the liabilities of the other.


The content of this document is for general information only and is believed to be accurate and reliable as of the posting date, but may be subject to change. It is not intended to provide investment, tax, plan design, or legal advice (unless otherwise indicated). Please consult your own independent advisor as to any investment, tax, or legal statements made herein.


MGTS-P45518-GE 09/21 45518     MGR0914211828405