The market moved in March, but 401(k) participants didn't
Investors don't like uncertainty. Floor traders and novice 401(k) investors alike can become unnerved when an event threatens supply chains, company earnings, public health, and daily life. That's why the stock market swung up and down so wildly in February and March 2020. As financial professionals, you spend a lot of time teaching investors not to react emotionally when the market goes crazy, and it looks like people have been paying attention—for now.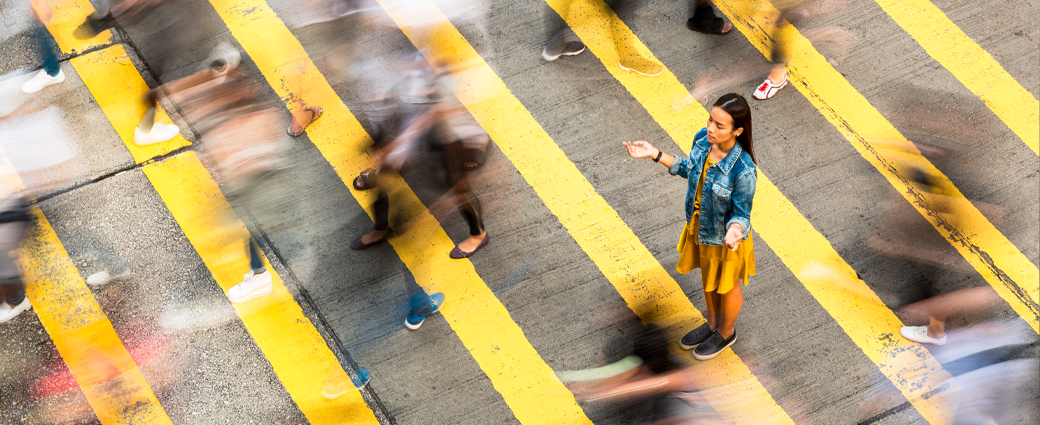 Timeline of events that sparked U.S. market volatility
The first case of COVID-19 in the United States was confirmed by the Centers for Disease Control and Prevention (CDC) on January 21. The virus quickly spread over the next six weeks, and on March 16, Northern California issued a shelter-in-place order. Statewide orders soon followed, and within a month, most of the country was also hunkering down at home.
As the virus spread, so did market uncertainty. The Dow Jones Industrial Average (DJIA) started to decline on February 24; at first, it was just a few percentage points at a time. Then on March 16, the day Northern California closed, the DJIA fell 13%. Although the market has continued its roller-coaster ride, as of this writing, it had regained some of its losses. 
We took a look at our 401(k) participants to see how they reacted to the market volatility in February and March. We found that—although some people certainly made some moves in response to the market news—most people did not.¹
Contribution rates have largely been stable
Less than 3.5% of participants lowered their contribution rate in March. Although that represents a 47.0% year-over-year rise in participants decreasing their contribution for the month of March, the number of people making the change is still pretty low.
Participant withdrawals were subdued in March
There were no significant changes in the percentage of people taking withdrawals and distributions this March compared with March 2019, but it's likely this will change in April and May for a couple of key reasons. 
The Coronavirus Aid, Relief, and Economic Security (CARES) Act was signed on March 27, making financial assistance available through some retirement plan provisions. Most plans and participants hadn't had a chance to take advantage of the provisions by March 31. 
The longer the stay-at-home orders and uncertainty continue, the more the financial stress may cause participants to look to their retirement plans for relief, particularly furloughed employees and workers who have lost their jobs.
Changes to investments were modest

Fifty-two percent more people moved their current investments in March 2020 versus March 2019—but even with that increase, less than 2% of participants made investment changes.
Stable value and fixed-income funds² are capital preservation options that are available to 401(k) plans. In March, we saw people transferring both into and out of stable value and fixed-income funds: 
About a quarter of participants moved from stable value/fixed income to a diversified investment.
About a fifth of participants moved from diversified funds to stable value/fixed income.
This behavior varied with age. More young people moved out of stable value/fixed income than into them; among participants aged 60 and older, 30% moved out of stable value/fixed income and almost half moved in. 
Movement in and out of stable value by age group 
 
<30
30–39
40–49
50–59
60+
Out of stable value/fixed income
35%
33%
39%
39%
30%
Into stable value/fixed income
17%
23%
28%
33%
49%
The CARES Act and continued uncertainty are likely to increase retirement plan changes
The only constant is change—and this may never have been truer than it is today. Despite the fact that, in March, most 401(k) participants left their accounts intact and held steady with their investment strategies, this may very well change with time. Financial professionals should continue to check in with participants, highlighting market volatility education and letting them know what CARES Act provisions may be able to help them. Another true constant is the need for communication—and times of change make that more important than ever. 
1 John Hancock's internal data, as of 3/31/20. 2 There is no guarantee that any investment strategy will achieve its objectives. Investing involves risks, including the potential loss of principal. Stable value portfolios are typically invested in a diversified portfolio of bonds and enter into wrapper agreements with financial companies to prevent fluctuations in their share prices. Although a portfolio will seek to maintain a stable value, there is a risk that it will not be able to do so, and participants may lose their investment if both a fund's investment portfolio and the wrapper provider fail.
The content of this document is for general information only and is believed to be accurate and reliable as of the posting date, but may be subject to change. It is not intended to provide investment, tax, plan design, or legal advice (unless otherwise indicated). Please consult your own independent advisor as to any investment, tax, or legal statements made herein.

 

MGR0501201170608