Tips to win more finals presentations
Growing your retirement business as a financial professional can be difficult. You spend a lot of time prospecting for new clients, researching them, and getting a foot in the door for it to all culminate in a one-hour presentation. You may increase your close rate and build your practice by training yourself to hit a home run at every finals presentation.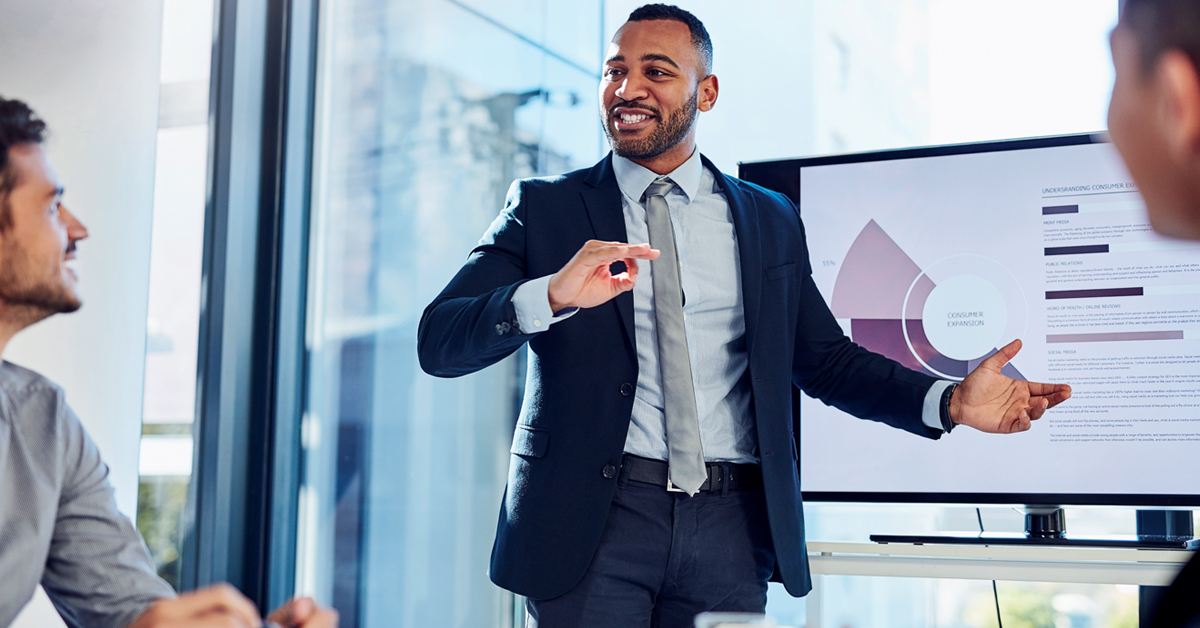 The four Ps to winning
Many people believe prospecting is the most challenging part of sales, and for good reasons—it takes time, commitment, and an innate ability to accept rejection.1 But once you qualify a lead and get the exciting notification that you're invited for a meeting to present, it's time to close the deal. Applying the four Ps can help you successfully win your finals presentation:
Preparation
Practice
Presenting
Pursue
Preparation
During your initial interactions with the prospect, you probably got a head start on your preparation work—learned their business, reviewed their plan documents, determined their pain points, and understood why they're in the market for a new financial professional. What else can you do to prepare? 
Know the audience—Build on your prior research to incorporate logos or catchphrases from their website in the presentation, know who'll be in the room, and identify the decision makers.
Engage with your team—Whether it be the recordkeeper, the TPA, or colleagues who'll join you, get everyone on the same page. Know who'll cover each section of the presentation, brainstorm objections you may hear—from the prospect or your competition—and prepare responses.
Nail down your value proposition—You're likely not the only one presenting, so clearly define what you bring to the table, why you're different, how you can address their problems, and what your philosophies are.
Plan for lacking engagement—Have a plan if the mood turns stale. Prepare a list of open-ended questions you can insert throughout the presentation to drive engagement and conversation.
Clearly outline your costs—Most businesses are budget conscious, even if your value is exceptional. Know how to explain your cost and any flexibility to alter the services—and cost—to meet the plan sponsor's needs.
Practice
Your presentation content is largely defined from your preparation—now it's time to practice. Rehearsals should include all parties involved in the presentation, so that everyone's on the same page as the material gets refined.
Do it—Don't just read your notes, say them. And when you do, either have an audience—family, friends, or colleagues—or record yourself, so you can play it back and critique yourself. If you're going to look or sound awkward, better to do it in front of people you trust to give candid feedback, not in front of the prospective client.
Refine the timing—Have smooth transitions between speakers, know about how long each section should take, and identify what you can cut out if you're short on time. Aim to use 85% to 90% of the allotted time, so that you're flexible if the schedule changes or you fall behind. 
Focus on key elements—Address supporting context, but don't belabor it—hone in on your key points and value proposition that you want to resonate with the audience. 
Anticipate questions and prepare answers—Put the brainstorming you did while preparing into action. And be direct in your responses—lengthy explanations make it seem like you're searching for an answer and can sound weak. They can always ask for you to elaborate.
"Practice makes perfect. After a long time of practicing, our work will become natural, skillful, swift, and steady."
Present
It's game time. After you've set up, take a deep breath. Read the room before and throughout the meeting—most communication is shown through body language and visual cues.2 Actively listen and take notes to remember follow-up items. Make the meeting conversational and interactive. And as much as the prospect may be interested in your solutions, they also need to want to work with you. So be personable, friendly, and mindful. Now, focus on your audience and start your presentation.
Give introductions—Set the stage by defining everyone's role and how you partner with the various parties. Go over the agenda and move on to discuss the prospect's issues.
Establish the client's key concerns—Show you listened, but also allow them to clarify or add more information. Have some open-ended questions prepared—this is an opportunity to create dialogue and start the meeting off interactively. 

Showcase your value proposition—Why are you the solution to their problems and superior to the competition? Detail your proposed changes and how you'd go about monitoring progress to measure success. Explain the benefit to the client, but also how you can help their employees—including financial planning seminars or any other services you offer. And highlight what they're already doing well, so you aren't perceived as a tornado coming through to tear their whole plan apart. Change is good, but too much can be overwhelming.

Confirm they're on the same page—To help ensure your value and solutions are clear to the prospect at the end of this section, ask them—"Does this make sense? Can I clarify anything?" It's another opportunity to create engagement and conversation and to make sure you clearly convey your message.
Provide live demos—Highlight your online tools and resources to bring them to life and show the plan sponsor how they can use them. The online experience is an important factor—especially with the increased migration to working from home—so show how they can stay engaged remotely. Sprinkle demos in throughout your solutions or showcase in a separate section. 

Recap and provide next steps—In the waning minutes, recap the key points you want to resonate and offer time for questions. Ask for the business—that's why you're there after all—and have specific next steps prepared, if asked. Thank everyone for their time, and gather your belongings.
Pursue
Now that the meeting is behind you, keep yourself in contention by continuing to pursue the prospect and delivering on your commitments. 
Thank you—Send individual emails thanking all attendees, or even a quick phone call to build rapport. 
Answer questions—If you had takeaways, provide detailed responses with supporting documentation.
Prove your worth—Provide additional collateral on topics the prospect was particularly interested in. Valuable content that you provide proactively can demonstrate that you're thinking of them and can be counted on to look out for their best interests.
Advance yourself—As you reengage with the prospect, advance the process of getting hired. Offer referrals. Define the process of finalizing an agreement and the paperwork needed. You want to make sure you're always moving closer to closing the deal.
Closing a plan sponsor deal isn't done in an hour
Signing a new client doesn't always come down to one 60-minute meeting. It can take months of building relationships, highlighting your value, and differentiating yourself from the competition. But nailing the finals presentation can help prove your worth and bring your partnership to life for plan sponsors. 
So don't put all your eggs and effort into the "finals presentation" basket, but put a few more than the others.
1 "60 Key Sales Statistics That'll Help You Sell Smarter in 2021," HubSpot, 1/8/21. 2 "Nonverbal Communication: How Body Language & Nonverbal Cues Are Key," Lifesize, 2/18/20.
The content of this presentation is for general information only and is believed to be accurate and reliable as of the presentation date, but may be subject to change. It is not intended to provide investment, tax, plan design, or legal advice (unless otherwise indicated). Please consult your own independent advisor as to any investment, tax, or legal statements made herein. This article is intended for Financial Professionals.

This article is intended for Financial Professionals.

MGTS-P 14889 12/21 14889                                                 MGR1207211940405