Not ready to quit? Try partial retirement
You've worked a long career and you're getting close to retirement—or maybe you're already there. If you're not ready to stop working but also not interested in a 40-hour work week, you've got options. You may want to consider a partial retirement to remain involved at work or break out and learn something new while you stay social and make some money.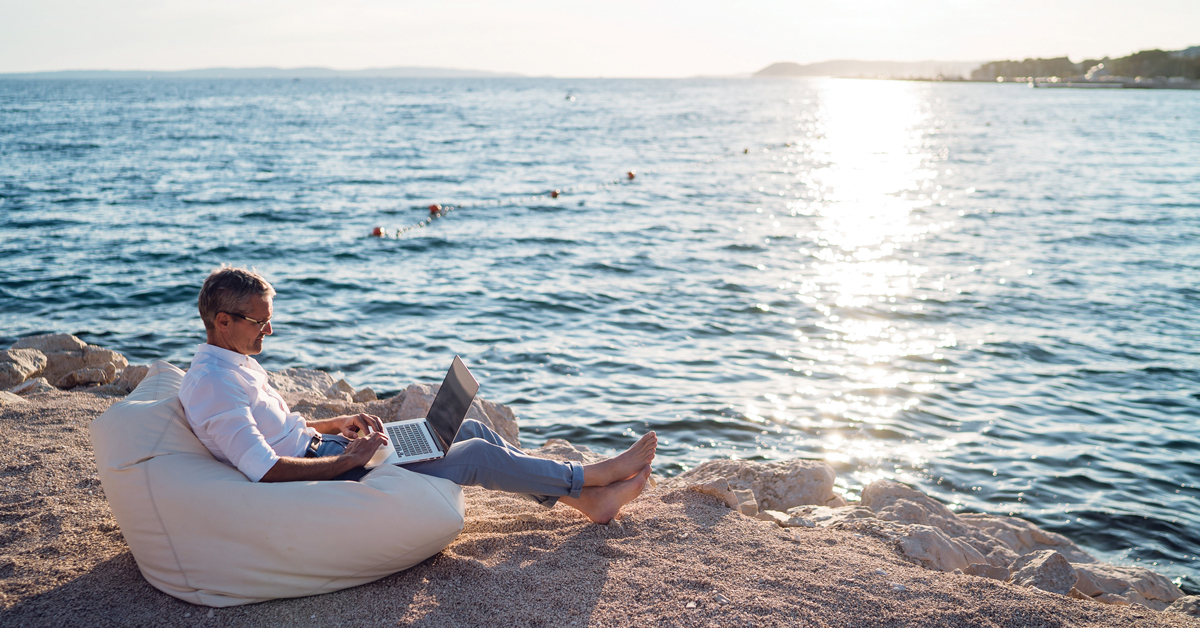 What does it mean to be partially retired?
The term retirement comes with the assumption of not working. But we're living longer, healthier lives than previous generations, and many people of retirement age aren't ready to quit working. Phased retirement programs—programs designed to transition employees from full- to part-time work before fully retiring—can help improve employee engagement, offer employees the chance to keep working on their terms, and keep some of their wisdom in-house.
If you're tired of working 40 hours per week but enjoy the work you're doing, a phased retirement program may be right for you. Or maybe you want to try a new career or turn a passion of yours into an income stream. If so, you can create your own partial retirement. 
This isn't your grandparents' retirement, and you're likely more fit and active than they were at your age. So, make it what you want. The opportunities are endless—you can pursue a new career, monetize a hobby, or learn new things—it's all up to you. 
And continuing to receive a paycheck is nice, too.
 
Want to make supplemental income in retirement?
People who are interested in partial retirement tend to fall into one of two groups: You need to work to make extra money, or you want to work.
You need to work to make extra money
You still need to create supplemental income during your retirement years to:
Whatever your situation may be, just because you need to work during retirement doesn't mean it needs to be stressful. Maybe that means continuing to work in the field you're familiar with, or maybe it's an opportunity to try something new. If you don't need to work full time, there are many possibilities for part-time work and freelancing. 
You want to work in retirement
You may want to work in retirement to:
Earn money, so you can travel more or fund a hobby 
Enjoy the social interaction that comes with working
Learn new skills and take on new challenges
Turn a passion project or business idea into income
You may also find that staying active in the workforce and being social is good for your health, as loneliness can increase blood pressure, the risk of obesity, and the likelihood of unhealthy behavior.1
"Choose a job you love, and you will never have to work a day in your life."
Think of fun new ways you can make additional income 
Do you want to turn an old hobby into a job or learn a new skill? Or are you looking for a certain sense of accomplishment or engagement in your community? Here are a few ways to consider that may make some extra income in your partial retirement:
Consulting or coaching—give back by mentoring younger generations
Working for, or starting, a nonprofit organization—nonprofits are a good place to invest your time and potentially make the money you need
Teaching—you've learned a lot through the years, so think about what you can teach at the elementary, secondary, or college level
Indulging in your art—play music at a bar, a restaurant, or events; consider creating and selling your artwork, pottery, or woodworking
Writing—share your experience by writing a book or starting a website or blog
Landscaping and gardening—enjoy being outside? Work at a garden center or for a landscaper
 
Partial retirement can help you optimize your Social Security payments
More strategically, a part-time job can help you defer your Social Security benefits and increase the amount you receive when you start payments. If you were born in 1960 or later, your full retirement age for Social Security benefits is 67. If you start payments at age 67, you'll get 100% of what you're entitled to, but if you can push that off until age 70, your payment will increase to 124% of your age 67 payment—forever.2 Conversely, if you start your benefits before age 67—you can begin as early as age 62—your payments will be reduced.3 Having part-time income can help maximize your Social Security payments by buying more time until you begin receiving them.
 
Make your retirement yours—partial or full
You've worked a long career and saved the money to retire—so enjoy it. But if you discover that you want to keep working but not full time, or you just want some extra cash, open your mind to the possibilities you can find in partial retirement. It may be your opportunity to get a job you truly enjoy and are enthusiastic about. If that's the case, it's not really work, is it?
 
1 ''Absence and Presence of Human Interaction: The Relationship Between Loneliness and Empathy,'' Frontiers Institutional, 5/19/20. 2 ''Retirement Benefits: If you were born in 1960 your full retirement age is 67,'' U.S. Social Security Administration, n.d. 3 ''Benefit Reduction for Early Retirement," U.S. Social Security Administration, n.d.
The content of this document is for general information only and is believed to be accurate and reliable as of the posting date, but may be subject to change. It is not intended to provide investment, tax, plan design, or legal advice (unless otherwise indicated). Please consult your own independent advisor as to any investment, tax, or legal statements made herein.

MGT-I 46061-GE 12/21-46061                                                    MGR1220211924799